Roula Posted on October 10 2023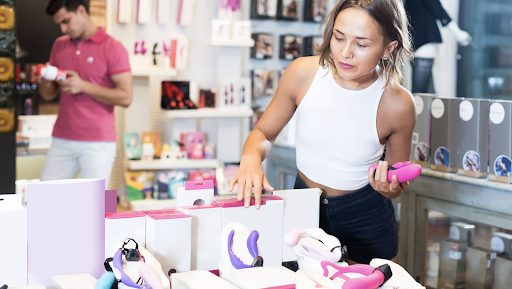 If you are also the one dealing with some issues in your sex life that are also affecting your relationship with your partner, we are here to help. Comparable to the numerous couples using these sex toys, from vibrators to dildoes, you can also enrich your intimacy. 
Gone are the days when sex toys were used to be taboo for couples. There was a myth that these intimate toys are used by people whose partners are not good in bed. However, the scenarios have changed today, and the popularity of sex toys for couples has skyrocketed in past years. 
According to the report published in Research and Markets, "The global market for Sex Toys, estimated at US$41.3 Billion in the year 2022, is projected to reach a revised size of US$74.9 Billion by 2030, growing at a CAGR of 7.7% over the analysis period 2022-2030." The biggest contributors in the industry are Japan and Canada. We will discuss how these adult toys can immensely benefit your love life. Give it a read and get the desired information!
The Benefits of Incorporating Sex Toys into Your Relationship
To Improve and Extend Foreplay
Adding sex toys to your intimate life can help extend the foreplay and make it more interesting. Surveys show that more foreplay is seen as the most exciting approach for couples to spice up their sex life. And it makes sense when considering the female orgasmic experience. It has often been seen that orgasm takes longer for women as compared to men. This implies that women need powerful clitoral stimulation and arousal build-up for pleasurable sex. In such scenarios, using fun sex toys for couples helps set the stage for penetrative sex with desired foreplay. 
Overcoming Sexual Challenges
When one or both partners have sexual difficulties like erectile dysfunction or premature ejaculation, couples' sex toys might be a wonderful remedy. The use of toys like penis rings, which assist in sustaining erections or delay creams, helps extend enjoyment. Although sex toys aren't a panacea and may not work for everyone, they can be useful for certain people. Remember that sex toys are not a replacement for professional aid or the treatment of any underlying medical or mental health conditions that may be causing or exacerbating sexual dysfunction. 
Advantageous in Kink and Fetish 
There are sex gadgets available for couples that want to experiment with kink and fetish. Bondage equipment, floggers, paddles, and whips are all great toys for encouraging a feeling of authority and submission. These gadgets are great for enhancing sexual enjoyment for both couples and arousal.
Boost Overall Health and Wellness
Using sex toys in a relationship has been shown to improve both partners' health and well-being. Positive effects on mood, stress levels, and immunological function, among others, have been related to regular sexual engagement. Endorphins are natural substances that have been demonstrated to help alleviate anxiety and despair and are released during sexual activity. Using adult sex toys for couples is a great way to keep your sexual life interesting and stimulating, which is good for your mental health.
Choosing the Right Couple Sex Toy
Consider Your Desires and Needs
To pick the perfect sex toy, think about what you want first. Ask these questions to yourself:- Do I prefer internal or external stimulation? Do I seek an externally stimulating device or a clitoral stimulator? Do I need a sex toy with little to no noise due to the presence of children, thin walls or nosy neighbours? What size of toy is best suitable for me? Understanding your requisites will help narrow down your options. 
Get to Know About Some Popular Options
There is a broad assortment of sex toys on the market nowadays, ranging from vibrators, masturbators, and dildos to butt plugs and handcuffs. Each toy has a distinct purpose and may deliver a different form of pleasure. Vibrators exist in a variety of forms and sizes, and they stimulate various regions of the body. Dildos are used for penetration, and Butt plugs are meant for anal play, whilst masturbators produce feelings comparable to oral or vaginal intercourse. Some of the best sex toys for couples these days include Hitachi Magic Wands, Air Pulsing Arouser Vibrator - PlusOne, FUN BAG - Balls Vibrating Penis Ring, Natya - Couple Vibrator - Kama Sutra, Legendary Duo - Vibrating Cock Ring - Satisfyer and more. 
Materials and Safety Priority
When shopping for sex toys, choose ones made from safe, body-friendly materials. Body-safe silicone, glass, stainless steel, and ABS plastic are the most desirable medical device materials. These materials are hypoallergenic, meaning they won't trigger allergic responses or skin irritations, and they're also simple to clean. It's best to steer clear of phthalate- and toxin-laden toys. To ensure your safety and enjoyment, carefully read the packaging and choose toys from quality materials.
Communicate with the Partner
Communicating with your spouse is crucial when purchasing sex toys. Express your needs, your tolerance, and your limits. Find out what they want to try and tell them what you like. You can trust each other more and have a better time together if you keep the lines of communication open. The goal is to spend quality time together, so choose activities that will interest you both. Consent and understanding from both parties are critical to having a good time.
Misconceptions About Sex Toys Debunked
There are numerous misunderstandings about sex toys for couples, despite their rising popularity. Distinguishing between reality and fantasy is essential. Use of sex toys, for instance, will not lead to dependency on them or dull one's sensitivity to pleasurable experiences. In reality, utilizing sex toys may improve your sexual experiences and bring you closer to your body.
Another widespread misconception is that only persons who are not in a committed sexual relationship may enjoy sex toys. But sex toys may be a fun complement to any sexual encounter, whether you're single or attached. They are a fun way for couples to bond while discovering new things about each other and the world around them. Keep in mind that sex toy use is entirely optional and that there is no "correct" way to include them in your sexual routine.
Final Thoughts
In the end, we would say that you don't need sex toys to have a beautiful, fulfilling sex life. However, these pleasure products can enhance the level of intimacy, pleasure, and enjoyment between partners. Now, if you have made up your mind to add these toys to your love life, your next concern might be where to purchase the reliable ones. Well, don't worry Spicy Love is the best place to buy couple sex toys online in Canada. You can find a variety of adult toys and accessories in our online store, catering to a diverse range of sexual needs.